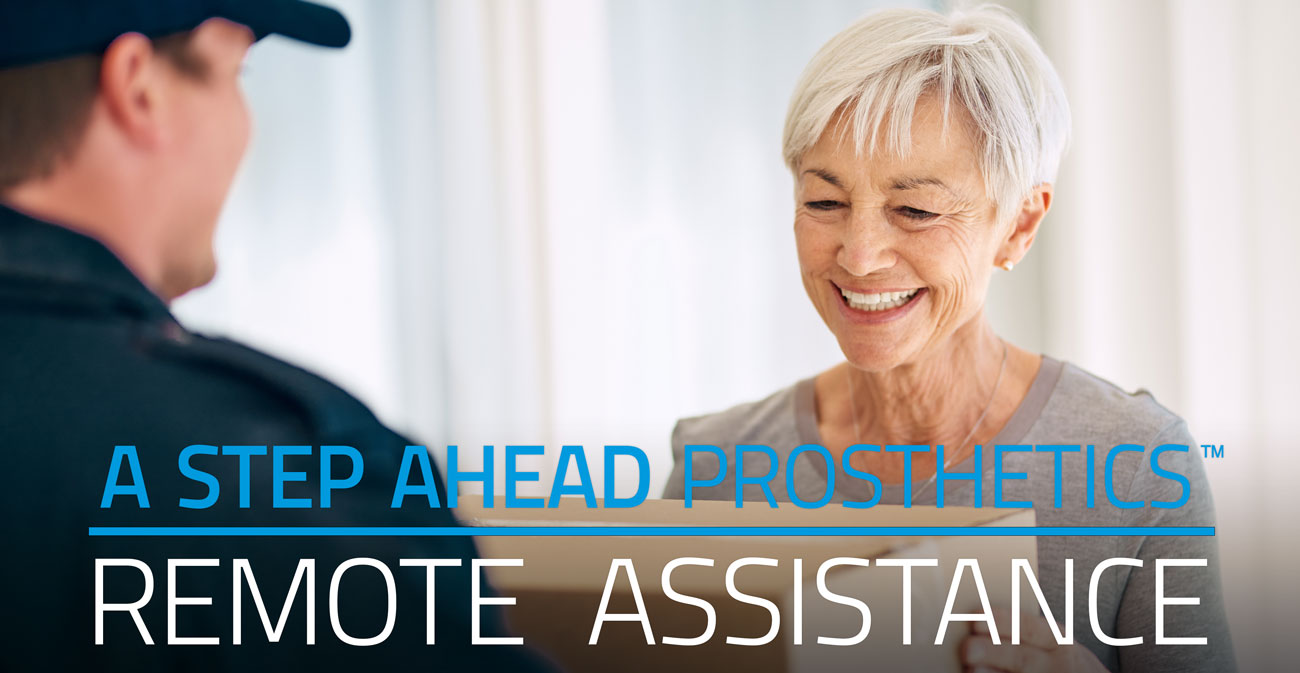 You may be stuck at home, but we're still here to help!
While we've been working hard to maintain a clean facility and employee health, we understand that some people aren't able to travel here for prosthetic care, especially under the current circumstances. For that reason, we are proud to offer our Remote Assistance program.
Through the Remote Assistance Program, you can ship your prosthesis to A Step Ahead for repairs and adjustments. Your prosthesis will be shipped through A Step Ahead's FedEx account to ensure safe and timely delivery*.
Here are a few services we have the ability to provide while you sit at home.
Purchase prosthetic supplies directly from us. Think liners, socks, shrinkers and much more!
Service checks of prosthetic feet, hands and all types of knees
Order custom partial hands, partial feet, fingers and toes
Send in your silicone skin covers for repairs or service
Ship your prosthesis to A Step Ahead for repairs, modifications and adjustments
Schedule a Virtual Consultation via Skype or FaceTime!
We are offering these services even to those who are not a patient of A Step Ahead.
We want to make sure you and your family are safe and that your prosthetic needs are taken care of. In turn, we are readily available to work with most major insurances and other forms of payment at this time.
*Patient is responsible for shipping costs. Tracking number and shipping options will be provided.
NOT A PATIENT OF OURS? NO PROBLEM!
If you are not currently an A Step Ahead Patient, but are interested in using our Remote Assistance Program, please fill out the following form.
ALREADY AN A STEP AHEAD PATIENT?
You're part of the family. Just let us know what you need!