Only the Latest and Greatest In Prosthetic Technology!
A Step Ahead Prosthetics is synonymous with the very latest in prosthetic technology, and we believe that all of our patients should have access to it. Our close relationships with leading manufacturers, including Ottobock, Ossur, Fillauer, Touch Bionics, and BiOM, ensure that we are always on the cutting edge! In addition, A Step Ahead houses its own Research and Development laboratory dedicated to designing and securing production of custom components not available anywhere else.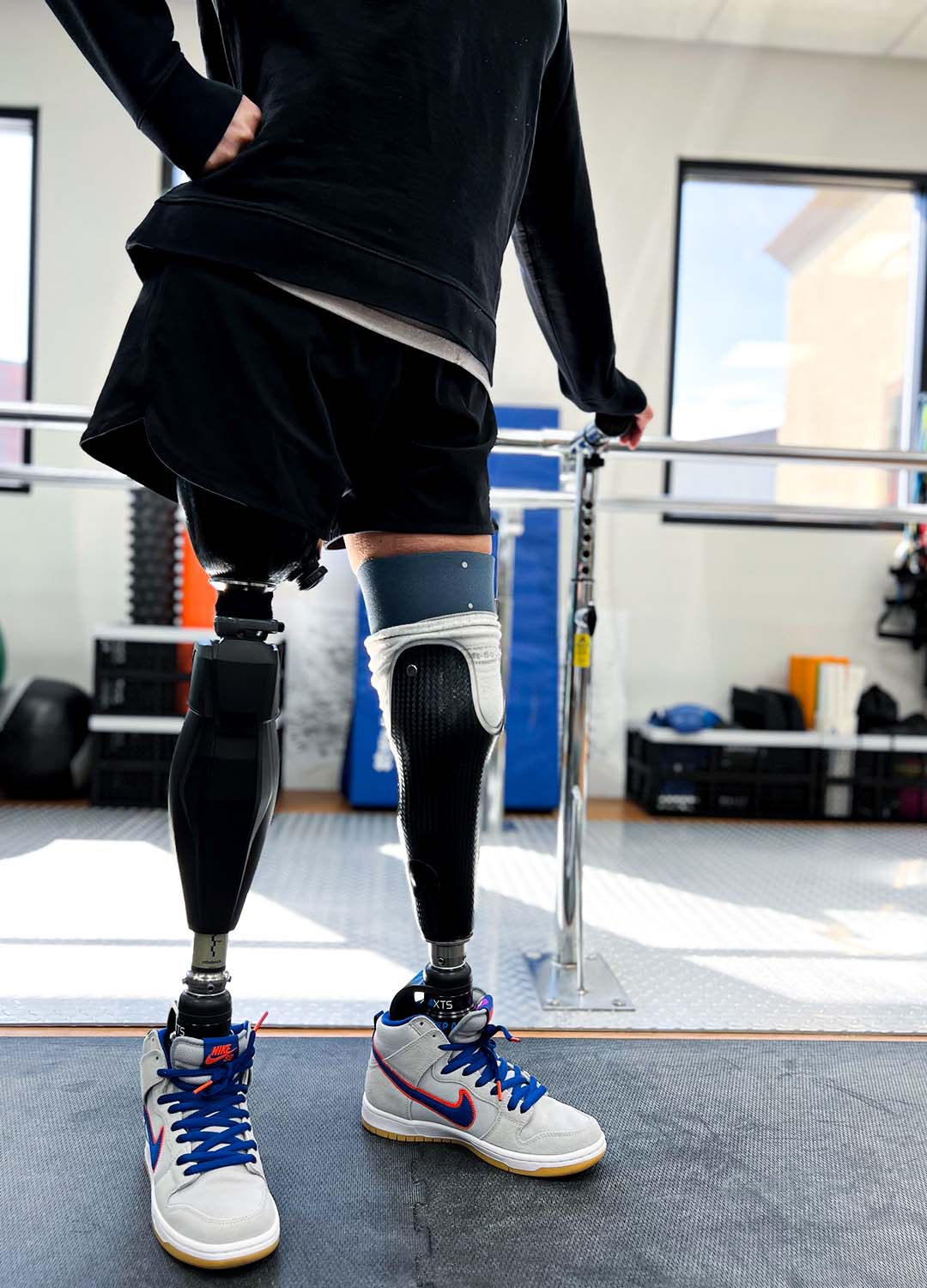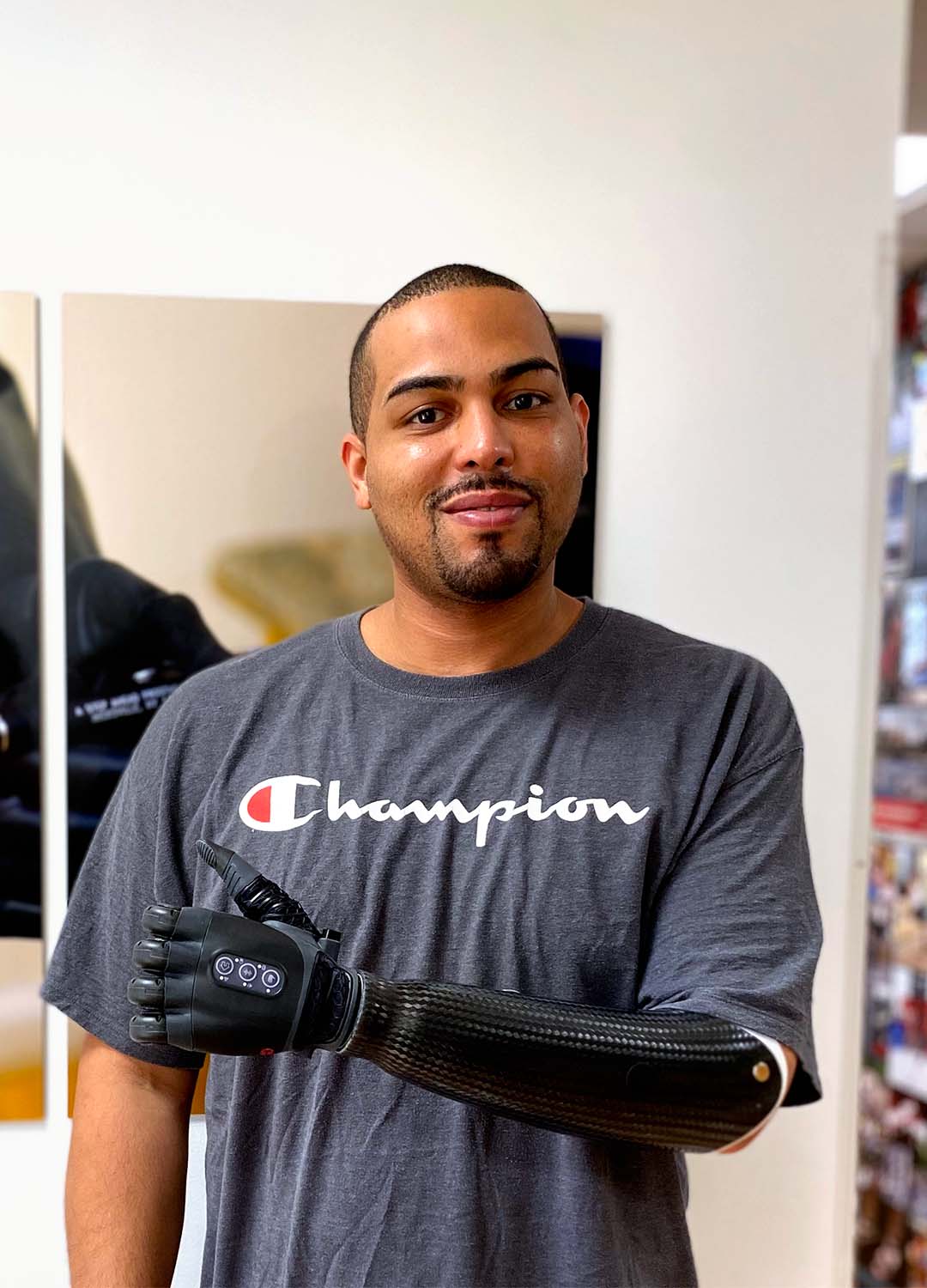 The Ottobock Genium Knee
Rheo Knee 3 helps users to feel in control at all times and takes confidence to a whole new level:
The bonus for the average user is that it is ultra stable, while the more active person will benefit from the extra functionality.
User Benefits:
The Ottobock C-Leg
Ottobock introduced the world to the very first fully microprocessor-controlled knee in 1997. The C-Leg caused an immediate sensation and has since become the most popular microprocessor prosthetic leg in history — with clinical studies to back it up. Since its introduction, over 40,000 people have taken advantage of the C-Leg's proven function and stability and helped to make C-Leg technology the standard of care for above knee amputees.
We're happy to announce that we now have newest version of Ottobock's spectacular C-Leg available in both of our locations! The new C-Leg 4 is IP67 rated, meaning that it can be completely submerged in one meter of water for up to thirty minutes. In addition, the C-Leg 4 boasts a number of other new features including advanced stumble recovery, up to three days of battery life on a single charge, a shorter build height (meaning more options are available for feet), and no pylon for greater reliability. Intuitive Stance recognizes when the knee is not in motion and slightly dampens, creating a stable, comfortable position. The Inertial Motion Unit ensures a smoother transition to swing phase and makes the knee more stable when walking backwards. There is also a smartphone app called Cockpit that allows you to switch modes, check battery life, and track steps right from your phone! Finally, there are no more fixed service intervals with the C-Leg.
BiOM T2 Foot and Ankle System
A Step Ahead Prosthetics was designated as one of twelve prosthetics facilities initially designated as BiOM Certified Bionics Centers, meaning that our prosthetists are qualified to fit the world's first bionic lower leg system to replace the action of the foot, Achilles tendon, and calf muscle to result in a near-normalized gait for amputees.
The BiOM T2 generates power during plantar flexion, propelling the prosthesis forward. With the PowerFoot BiOM users indicate less pain, more energy and the feeling of having their leg back. They report less fatigue, increase in daily activities, fewer pressures inside of the socket and more stability on uneven terrain. The result is a healthier patient with a more active lifestyle.
The Ottobock 3S80 Sport
This new sport prosthesis is compact, light and sturdy and is suitable for a body weight of up to 100kg. Optimised for running sports, it comprises the new 3S80 Sport knee joint, 1E90 Sprinter Carbon Foot and the newly developed 4R204 Sport Foot Adapter.
3S80 Sports Knee Joint
The 3S80 knee joint is designed to withstand the high pressure imposed whilst running. Rotation hydraulics have been optimised for running sports; the joint dampens the extension and flexion movements in the swing phase in such a way that a dynamic movement pattern is enabled even at higher stride rates while running. The manually operated lock on the new knee joint facilitates a secure stance that can be of use during warm-ups and stretching.
1E90 Sprinter Carbon Foot
The durable 1E90 Sprinter carbon spring foot offers a particularly high energy return, making it ideal for running. Various stiffness versions of the spring are available to suit every body weight and running experience. Two soles are available; the universal sole with an all-terrain tread is suitable for running on a variety of surfaces such as forest trails, while the spike sole can be used for fast sprints, especially on an all-weather running track.
4R204 Sport Foot Adapter
The newly developed sport foot adapter joins the knee joint to the foot. A fitting guide is included with delivery of the sport prosthesis, allowing the prosthetist to accurately align and adjust the sport prosthesis for the individual. Running exercises and a user step-by-step guide are also provided for prosthetists.
"The sport prosthesis is suitable for many different types of terrain and is ideal for use on the treadmill, in the fitness studio or jogging through forest trails," said Philip Yates, Managing Director at Ottobock UK. "We're expecting a rise in people looking to try new sports following the Paralympics and this new sport prosthesis is a great solution for above-knee amputees living active lifestyles, but it can also be used for other sports that involve running, such as the long jump, high jump and javelin."
The Ottobock X3 Microprocessor Knee
The result of a collaboration between the US military and Ottobock, the X3 is quite simply the world's most technologically advanced microprocessor prosthetic leg. You may have a challenging or adventurous lifestyle. Or, you may simply want to keep up with everyday activities (showering, hiking, running to catch a bus) without having to worry if your prosthesis can make it through.
An accelerometer and a gyroscope intuitively know where your leg is in space, using the same technologies from Wii™ gaming systems and smartphones, for a virtually natural gait. That means less worry of a stumble or fall and less concentration needed when you're on the move. More physical capabilities than any other prosthetic leg including running, walking backwards, crossing obstacles in a more anatomically correct way, and climbing stairs step-over-step without massive compensating movement. Via the remote, the X3 switches into a larger swing angle for running and other sports. Plus, the innovative Walk2Run mode detects start-and-stop running (such as crossing a street or trying to catch a bus) and automatically increases your swing angle. X3 offers improved battery life and an automatic "sleep" mode. That translates into five plus days of use without the need for a recharge, giving you greater independence.
The X3 is also "ruggedized" based on conditions an active duty military member might face. That means it's up to any challenging terrain you may encounter! The X3 has undergone stringent waterproof testing. Completely submersible, the X3 allows unprecedented contact with water. Perfect for anyone working near water or for activities such as showering, washing your car, or boating. (Just be sure to clean it afterwards.)
The bebionic3 Myoelectric Hand
bebionic3 utilises leading-edge technology and unique, ergonomic features that make it unlike any other hand available. These innovations combine to give the hand unrivalled versatility, functionality and performance.
Individual Motors in each finger allow you to move the hand and grip in a natural, coordinated way. The motors are positioned to optimise weight distribution – making the hand feel lighter and more comfortable.
Powerful microprocessors continuously monitor the position of each finger, giving you precise, reliable control over hand movements.
14 Selectable grip patterns and hand positions enable you to perform a huge number of everyday activities with ease.
Proportional Speed Control gives you precision control over delicate tasks, so you can pick up an egg or hold a polystyrene cup as easily as crushing an empty can.
Three Wrist Options including Quick Disconnect, Multi-Flex and Short Wrist
bebalance software and wireless technology located within the bebionic3 myoelectric hand makes it easy to customise the functions to suit your preferences and lifestyle.
Selectable thumb positions and a built-in sensor enable you to complete more tasks than ever before.
Auto grip means no more accidents, as bebionic3 automatically senses when a gripped item is slipping and adjusts the grip to secure it.
Foldaway fingers provide natural looking movement, and flex when you brush past people or bump into objects.
Durable construction and advanced materials makes bebionic3 strong enough to handle up to 45kg – so you can confidently use the hand to carry heavy objects, and push yourself up from a seated position.
Innovative palm design protects bebionic3 from impact damage, and makes the hand quieter than ever.
Soft finger pads and a wide thumb profile maximises the surface area, and enhances grip.
The Ossur Proprio Foot
Proprio Foot is an adaptive prosthetic device for low to moderately active below-knee amputees that mimics natural foot motion. Motor-powered ankle motion increases ground clearance and reduces the risk of tripping and falling. This allows users to traverse different kinds of terrain in a natural and secure way.
Increases ground clearance, reduces the risk of trips and falls and enhances safety and gait quality.
Enables users to focus on their surroundings, instead of the walking terrain, offering a high degree of ground compliance, on all kinds of surfaces.
Reduces strain on knees, hips and back.
Enhances stability, efficiency and comfort on inclines, declines and stairs.
Maintains symmetry and alignment while changing shoes.
The Fillauer Wave Foot
The new Wave Foot from Fillauer is an advanced prosthetic foot system available in two flavors – Wave Comfort and Wave Sport.
The Wave Comfort brings an exceptional level of comfort to the low and moderate activity user. The unique tri-spring design elements work in concert to provide seamless transition and stable progression from heel-strike to toe-off. The coupled springs react in a compliant manner that promotes a supple feel while maintaining the dynamic response expected in carbon composite feet. The novel wave spring and variable durometer heel bumpers enhance stability at heel strike through shock absorption and plantar-flexion as the wave spring flexes and extends. The smooth action of the heel rocker combined with the stable dynamics of the forefoot insure a "Wave of Comfort" from heel to toe.
From extreme sports to light jogging, the Wave Sport has the performance active amputees desire. The Wave foot design uses an innovative wave spring between the pylon and heel plate to provide shock absorption and stability. The full heel plate allows it to be used in a foot shell and worn with standard athletic shoes. This makes the Wave Sport a more versatile, high performance alternative to single bladed running feet.
The Ottobock Helix 3D Hip
The Helix 3D prosthetic hip uses groundbreaking technology to give you a more natural walk. With its three-dimensional pelvic rotation, the Helix mimics the natural movement of the human body, unlike other prosthetic "hinged" hips.
The unique Helix design also helps you start your step more smoothly, improves toe clearance and makes it easier to extend your leg during walking. The results are dramatic. You'll spend much less energy thinking about your next step, and experience less pain in your back and joints.
More natural walking. Just like the human hip, the Helix produces a three-dimensional hip movement to compensate for pelvic rotation. The hydraulics provide a smooth transition as you flex your hip or extend your leg. The polycentric design also helps you to avoid compensatory movements that can be required when using less sophisticated hip joints. The result is a symmetrical, natural walking pattern for you.
More flexibility. The Helix will flex up to 130º, making everyday activities like putting on shoes or getting into a car easier.
Step easier. You'll find it noticeably easier to begin your step with the Helix's integrated springs. The energy stored in the springs is released as you swing your leg forward to complete your step, helping compensate for your missing hip muscles and reducing the amount of energy needed for walking.
Stability tailored to your needs. The Helix offers an individualized stride length setting to give you a smoother, more stable step to better match your sound side as well as reduce the risk of falling.