By: Diane Bracuk, Thrive Magazine
A high-performance athlete heralded as the Michael Jordan of wheelchair basketball and a recording and performing indie musician aren't usually the same person. But Patrick Anderson has always been about stretching his exceptional talents to the absolute fullest.
"Music and sports have always competed for my attention," he explains. "My earliest memories involve hockey or singing around the kitchen table or the campfire."
These days however, the 40-year-old Anderson may find himself singing bedtime lullabies. The Anderson family, which consists of Patrick, his wife Anna Paddock, and a young son and daughter, recently welcomed a baby girl to their brood to make a family of five. That, along with being back on the Canadian men's wheelchair basketball team training for the Tokyo 2020 Paralympic Games, means that Anderson will be keeping a lot of balls (and not just basketballs) in the air.
From the backyard deck to the Paralympic podium
Born in Edmonton, Anderson grew up in Fergus, Ontario, a scenic, historic town well-suited for sports and outdoor activities. At the age of nine, he lost both of his legs below the knee after being struck by a drunk driver. Readily taking to his wheelchair – his new form of mobility – he kept up with his friends, chasing them around his hilly small town. Then his father put up a basketball hoop on the backyard deck of their home. From that point on, as Anderson puts it, he always had a basketball in his hands.
"That deck was my lab," Anderson said. "I practiced wheelchair basket- ball of course. But I also played on my prosthetic legs. I even played on my knees. I would lower the basket to the lowest setting and then pretend I was a giant with no feet playing in the NBA. You could say that my dad helped un- lock my athletic imagination by putting that hoop in our backyard."
Looking back, Anderson would have never thought that he was train- ing for something big. But that's essentially what he was doing. Anderson joined the National Wheelchair Bas- ketball Team in 1997, while earning a wheelchair basketball scholarship to the University of Illinois. With his speed and unmistakable flair, he led the Canadian Junior Men's National Team to back-to-back World Championships in 1997 and 2001.
He later secured his reputation as the best wheelchair basketball player in the world by leading the Canadian Team to back-to-back Paralympic gold medals in 2000 and 2004, and then again in 2012. And with that An- derson was done, taking a hiatus, and moving to Brooklyn, New York, to start a family with Anna Paddock and follow his other passion – making music.
THE LAY AWAKES Making beautiful music together
Like Anderson, Paddock is gifted musically and athletically. She went to uni- versity on a volleyball scholarship and was offered a professional contract in Germany, but turned it down to further pursue her musical studies.
As they both enjoyed songwriting, they formed an indie band together called the Lay Awakes. Their first album, "Away From Home", features a beautiful ballad called "Falling in Love" in which Anderson displays another striking talent – a soulful tenor.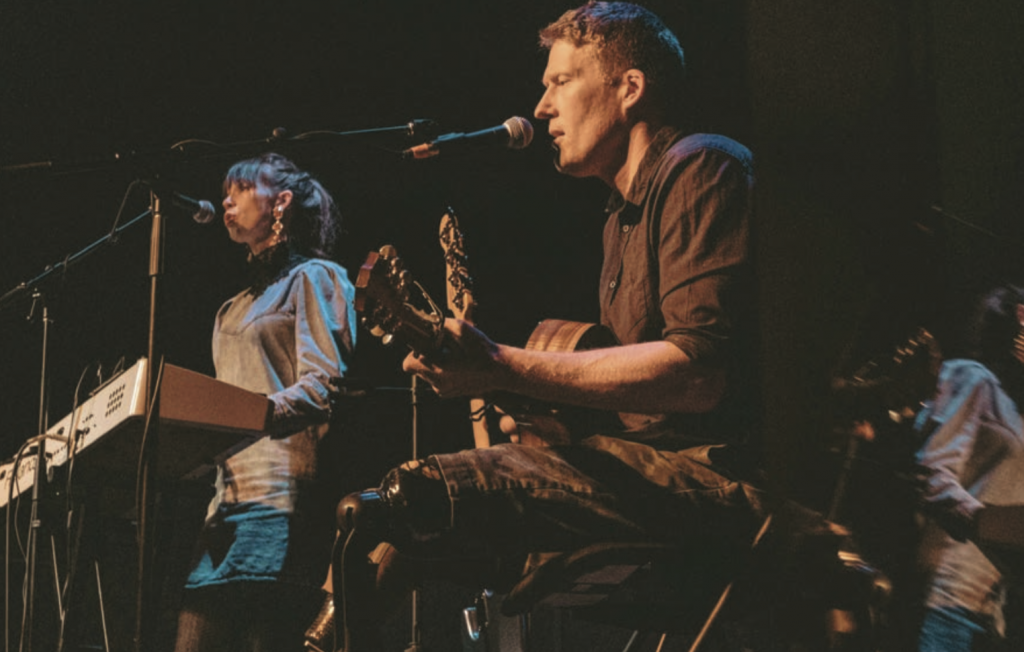 Since Anderson's hiatus, the once unbeatable Canadian Wheelchair Basketball team has struggled mightily in international competition. But in witnessing some of the special up-and-coming Canadian talent on the court, Anderson decided to come out of retirement. "I didn't come back to help. I came back because I still love to train and compete, and because I wanted to play with this group of guys," he shares. He's back with the National Team and is currently preparing for the 2020 Summer Paralympics In Tokyo.
"The competition is a lot tougher," he pointed out. "The international talent pool is deeper. As a program, it has challenged us to find ways to work smarter to separate us from the pack."
Anderson's return in 2019 paid dividends. His team captured the silver medal at the Parapan American Games in Lima, Peru, and qualified for the Tokyo games. "Qualifying for major tournaments is not something we take for granted anymore, so it was gratifying. That said, it was disappointing to get blown out by the U.S. in the final. But hopefully that just makes us hungrier."
He admits that he did have some concerns about not giving 100 percent effort to his budding music career with his return to wheelchair basketball, but rationalized that at his age, his window for elite-level basketball was closing. "We're playing the long game with music, which allows me to embrace and lean into these last few years of Paralympic-level basketball," he said.
Although Anderson is all about following one's passion, and en- couraging others to do the same, he still experiences the same day- to-day frustrations of many amputees – pain, fitting problems and prostheses that might work well for a period of time, and then don't.
Through an email interview with thrive magazine, Patrick provided some insights into his life as a prostheses user.
thrive: The images of you that most Canadians know are of you in a sports wheelchair on the basketball court. Are you a prostheses wearer off the court?
PATRICK: My relationship with pros- thetic legs has been very up and down. I'm a bilateral BK (below knee), but my left stump is so short below the knee that I walk with an AK (above knee) limb on that side. This means I kneel in the socket. Up to now, my legs have been an interesting mix of old and newtechnology – some leather and laces and socks thrown in with the new tech. For the first 10 years, prostheses were a painful burden for me. Then came the newer makes of prosthetic devices, with their new approaches, and it was like lightning in a bottle. Walking was amazing, a whole new world. Then five years ago, I hurt my stump and landed right back at the beginning.
thrive: How did you deal with that?
PATRICK: Some of my solutions hinged on a very simple fix. One time it was a matter of removing an extra strap, and the pain went from 10 to 0. Another time I used a bread knife to quickly modify a kneepad in order to take pressure off a sore that had plagued me for three years. A month later it was healed. I'm not advising anyone to take a bread knife to a $10,000 prosthetic leg! But there is a degree of Do-it Yourself trial and error that is necessary.
thrive: You're currently being fitted for a new pair of prosthetic legs. Tell us more about them?
PATRICK: My legs are being custom-made by Erik Schaffer at A Step Ahead Prosthetics in New York. He's considered one of the foremost authorities on prosthetic technology, so I'm optimistic.
thrive: Did you ever feel pressured to choose between prosthetic legs and a wheelchair for everyday use… giving priority to one over the other for mobility?
The Challenge: Building Prosthetic Legs for Patrick Anderson
Erik Schaffer, Founder, CEO and Prosthetist, A Step Ahead, Hicksville, NY
Patrick's case is very complex. His right leg was amputated below the knee, but because there is a lot of abnormal bone growth in it, it is not a typical BK limb. It greatly complicates the fit. In theory, he is a below-the-knee amputee on the left side too, but there is only about an inch and a half of his leg remaining below the knee. Between the small length of limb and the combined effects of skin grafting and abnormal bone growth on the left side, he cannot be fit with a traditional below-the-knee prosthesis. Instead, we're doing something where he bends his knee in the prosthe- sis, and is kneeling (bent knee prosthesis). I'm building a very special above-the-knee prosthesis that accommodates for the below-the-knee amputation inside the socket. We're fitting him like an above-the-knee amputee on the left, and a below-the-knee amputee on the right. The complexity of the fit puts it in a very high classification of customization, and I'm looking forward to the challenge.
PATRICK: Yes. I got a sense early on that some people in the medical and amputee community think that a wheelchair was something of a compromise or a disap- pointment. That didn't line up with my experience. After the initial excitement of learning to walk again on prosthetic legs, I mostly felt pain and frustration. In a wheelchair I felt joy. I felt like an athlete.
thrive: This flies in the face of a common public misconception that wheelchairs are confining.
PATRICK: It does. But I considered it a huge blessing that I grew up playing wheelchair basketball. No matter what kind of state my legs were in, my wheelchair always gave me freedom. Kind of like a bike. I could always jump in and take off. Exactly the opposite of being "confined to a wheelchair."
thrive: You have two young children, and a new baby girl. Were there any things that you struggled with as an amputee dad?
PATRICK: Between scrambling on my knees and carrying the kids on my lap in my chair, the first few years have been okay. We've had a lot of fun. We'll see what happens when they get bigger.
thrive: You're called the Michael Jordan of wheelchair basketball. How would you like to be referred to in music?
PATRICK: That's a ridiculous question! But let's go with Gordon Lightfoot. I wish!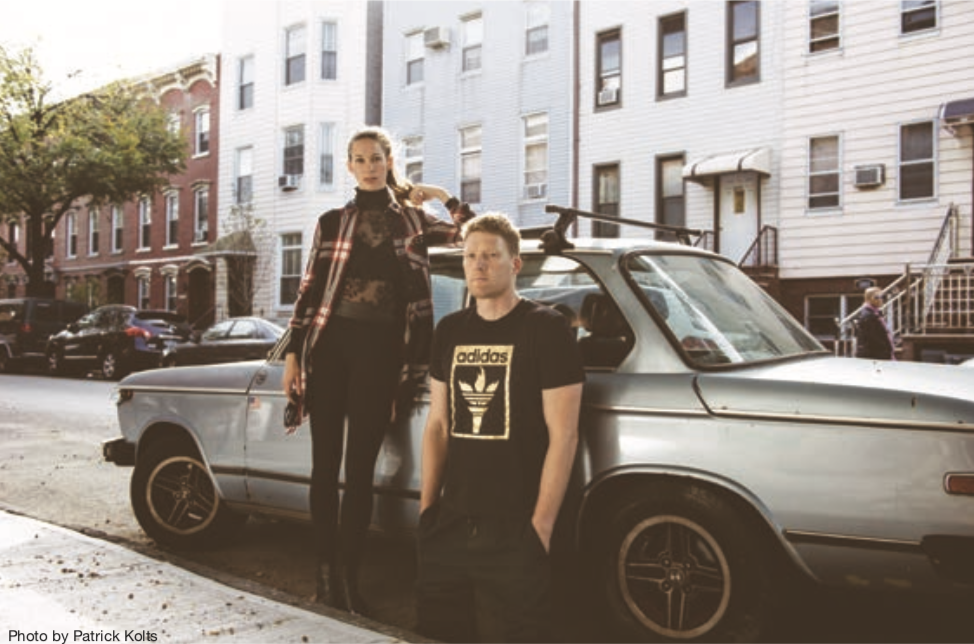 ABOUT THE AUTHOR: Diane Bracuk is a Toronto healthcare writer who regularly reports on the prosthetics and orthotics industry. Along with writing about Paralympians, she is also editing a book commemorating the Canadian pioneers who worked tirelessly to improve the lives of people with disabilities. She's keeping her fingers crossed for Team Canada in the upcoming Tokyo Games.