Amy Palmiero-Winters lost her limb after 25 surgeries, after a motorcycle accident. However, she showed a lot of courage and determination to face the tough mountain biking competition.
The American, Amy Palmiero-Winters was one of the most applauded cyclists of The Path of the Conquerors 2019. Her great dose of courage and determination was an example for runners and fans who saw her on the side of the road. 
No matter if she was pedaling or walking for hours, Amy met the goal of bringing hope to those who need it and showing them that no matter the problem, you can always overcome, as she did, by completing the second fraction of this Friday, 78.3 kilometers. 
"When the children approached me with admiration, they saw me compete and realized that I had my left leg amputated, I felt I could show them that you can do anything you set your mind to." 
With a smile of satisfaction, the native New Yorker concluded the fraction in 10 hours after taking the exit in Tres Ríos (5 a.m.), Drawing strong ascents, cold and dangerous descents. 
The Path of the Conquerors hurts in each muscle, but the long days on her bicycle do not compare with the condition experienced at 19, when she suffered a motorcycle accident and, after three years of surgery, to add 25 visits to the operating room, lost her left leg.
"My left foot was split and despite the operations they had to amputate me. During that time I walked and worked normally, but then I had to get used to a new life and get ahead. They also had to rebuild my right foot, so I have metal parts in it," said Palmiero.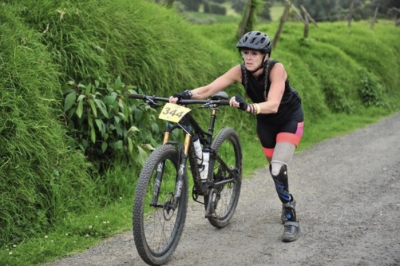 The position doesn't matter. The 47-year-old cyclist was not on the radar of the specialized press, reached the finish line among the last 10 competitors and was only waiting for her friends and family members of other riders who rewarded her effort with a loud applause. "It doesn't matter if you arrive last. The important thing is to keep going. I loved the support in Costa Rica, the people are very friendly and special and they opened the doors and gave me a lot of encouragement not to faint. The motivation of my five children pedaled with me." said Palmiero.
Amy currently works as the Director of A Step Ahead Prosthetics based in New York. For 10 years she sought out the perfect prosthesis to allow her to compete in marathons. "I was always very competitive. I liked doing sports and I looked for ways to have good technology to achieve it. I participated in athletics events and now in mountain biking, which I love."
Amy confessed that she works about 60 hours a week, so she has little time to train, however she accepted the challenge launched by her sponsor, The Spartans Company, of running the Path of the Conquerors
"I arrived in Costa Rica on Wednesday at 8:30 p.m. and at dawn on Thursday I was already running. I'm going to have to talk to my sponsors, they never told me it was going to be so hard (she joked). La Ruta is really one of the most demanding competitions on the planet, but the important thing is that we compete and show that there are no limitations," added Palmiero.
Source: https://www.nacion.com/puro-deporte/otros-deportes/neoyorquina-que-sufrio-amputacion-de-una-pierna/E5CR2PVNMNGMPLSUHDXAYZJ6NQ/story/